Nowadays, everybody on the internet is trying to make their presence, which can be majorly happened by having your own website. Whether you want to create an individual portfolio website or want to create a website to take your business online, we all need a website on the internet to fulfill our different purposes.
Meanwhile, various websites let you create your website by drag and drop method or by using templates and various kinds of methods they all charge you a lot of fees. Having a webs ite on the internet is not an easy job as well, hosting providers charge you a lot depending upon the size and bandwidth of the website and other various factors.
Not only that but if you are a web developer and want to test out some websites in live practice by hosting it and want to understand the different things regarding this then FREE Hosting services is the best option you can have.
Having a website is a bit costly since hosting is not cheap, So in this article, I have curated various websites which will let you host your website for free
Note: The Order is not specific, Please try all of them and choose the one you like
MilesWeb is not a FREE Hosting service provider but I could not resist putting this web hosting service here because at such a small price they are proving a good service and I am really impressed by the service and features they do have. The Dashboard is pretty lame with limited features but the service is good and they are offering a lot of things at such a minimum price! Do check out the link.


Basic Plan Includes:
Host 1 Website
1 Free Domain included
1GB SSD Disk Space
Unlimited Bandwidth
Control Panel
Free SSL Certificate
10 Email Accounts
3 MySQL DB's
200000 Inodes
256MB Database Size
1 CPU Core
1GB RAM
20 Entry Processes
40 Active Processes
---
FREE HOSTING SERVICES
---
x10Hsoting is one of the oldest web hosting services out there. Not a fancy homepage or cluttered GUI but definitely a good service and good features. X10Hosting is a good option to host your website online for free. There are many features you can get in the free tier. Check them below
Features:
Complete Control
Website Builder
High Performance
1-Click Software Installation
Flexible Web Hosting

FREE Plan Includes:
unmetered bandwidth and disk space
cPanel control panel
FTP
e-mail [Custom]
MySQL
200 auto-install scripts
Get Here: Link
GoogieHost provides you a modern interface with good tools to analyze and maintain your website. If you just want to learn the dashboard or want to host a tiny static website then googiehost also has a FREE plan with tons of features. You can definitely try out your hands-on free plan first and learn and if you want more, You can always go for Paid Plan.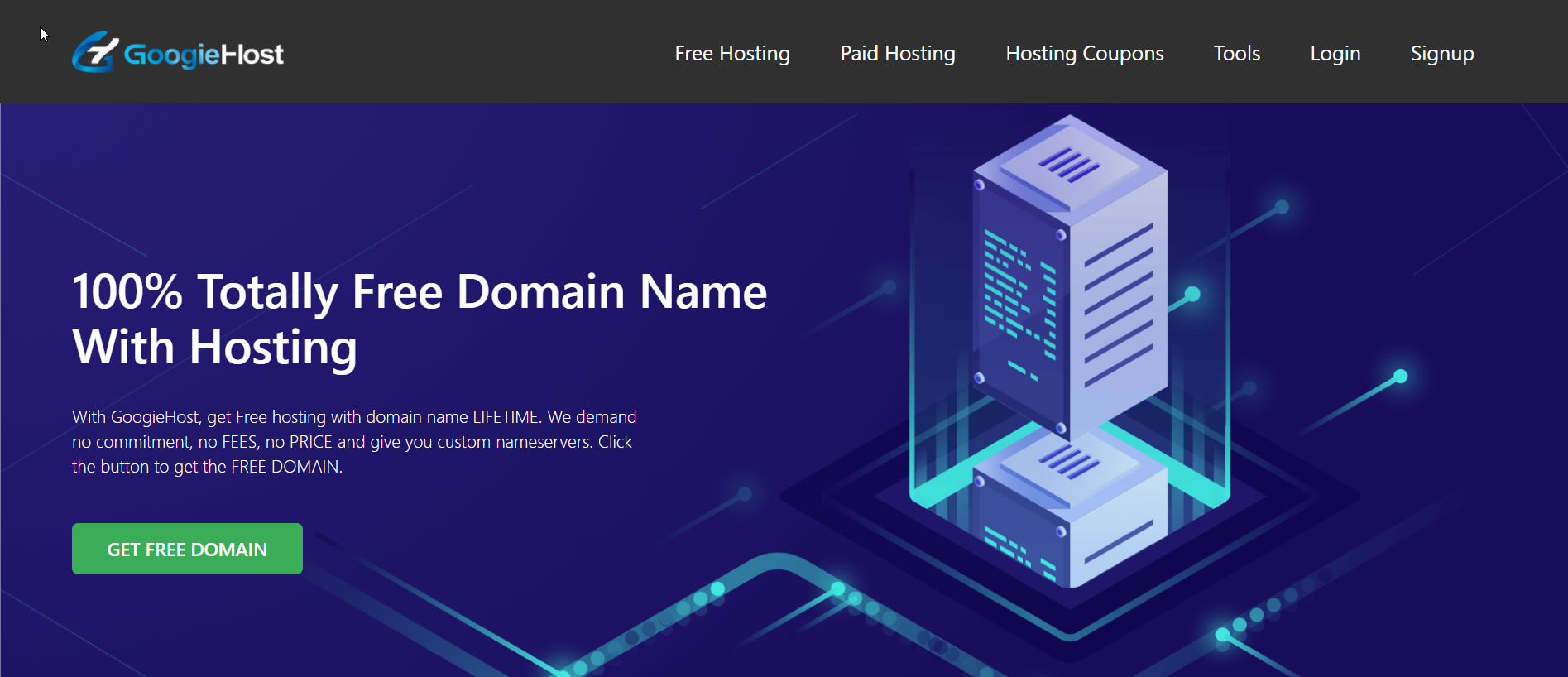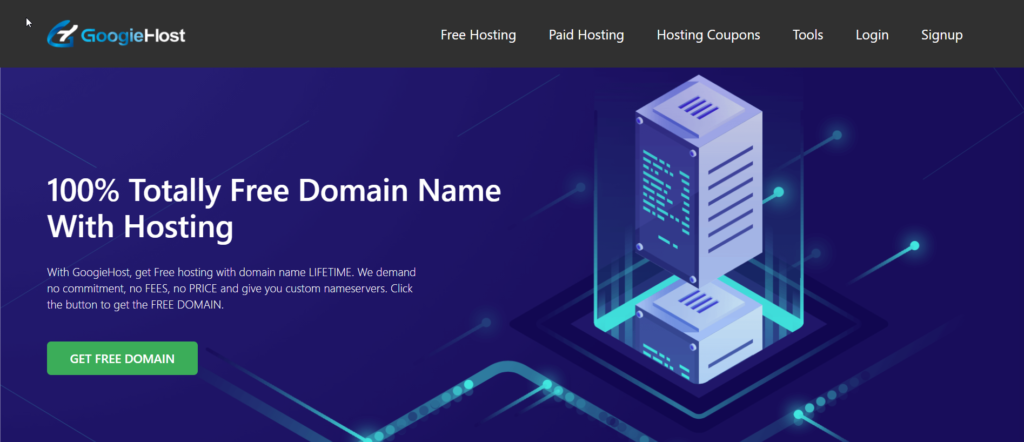 Free Plan Includes:
No Credit Card Required
1000 MB storage
Unlimited bandwidth
2 Email Addresses
2 FTP Account
Website Builder (TRIAL)
Auto Installer
SEO Tools
CDN (Cloud Flare)
Self Backup
Knowledge Base, Email Support
Cloud Linux Limited
No Lite Speed
Standard Drive
1 Data Center
100 MBPS Shared Uplink
99.95% Uptime
Get Link: Here
000WebHost is a website made by Hostinger just for learning purposes. If you just want to learn about hosting and all but have no idea about this, then 000webhost is the best place for hosting. This website is entirely built for the purpose of educating and providing a FREE web hosting service to those who need it.
Free Plan Includes:
1 Website
check
300 MB Disk Space
check
Limited Bandwidth (3 GB)
Free Hosting name is self-explanatory. The Domain name itself says that the website is entirely for the purpose of FREE hosting service and it provides the same. You can host your website for FREE here. The PAID plan is also available for those who wish to upgrade,
Free Plan Includes:
10 GB of disk space
Unlimited bandwidth
hosted website-1
single e-mail account
MySQL database-1
Free upload Hosting service is one of the most feature-rich website hosting services out there. It's pretty much advance and offers you a lot of features in your FREE tier plan. This one is defiantly worth checking it out if you are serious about hosting a website. You can check the plans below.
Free Plan Includes:
Websites : 1
Free SSL Certificate : Yes
Free cPanel : Yes
SSD Storage : 10 GB
Bandwidth : 30 GB
Email Addresses : 3
MySQL Databases : 2
Support : Yes
Get Link: Here
Hostinger is one of the most famous and loved hosting websites out there. The features and dashboard is amazing if you want to explore the PAID plan but the FREE plan also seems to be good enough. You can try it out.


Free Plan Includes:
1 Website
300 MB HDD Storage
300 Visits Monthly
Limited Bandwidth (3 GB)
One of my first website hosting services where I learned How to actually host website online. You can not only host 1 website but total of 3 webiste with a single account. Infinity host will also provide you a way lot of features like unlimited disk space and few other if you want to host a website. You can check the details below.
Free Plan Includes:
Unlimited Disk Space
Unlimited Bandwidth
400 MySQL Databases
PHP 5.4, 5.5, 5.6, 7.4
MySQL 5.6
Full .htaccess support
Subdomain Names[free]
Free SSL on all your domains
Free DNS Service
BONUS: FREE DOMAIN
Since you made it till the last of this post, Here is a BONUS Gift for you to get a FREE Domain for your website.
STEPS:
1.Go to website FreeNom
2.Register Yourself with all the correct details
3.Choose the domain name you want
4. Claim the Domain name
5. Activate the DNS and Nameserver to your website
6.Done
If Freenom seems like not working, try using a VPN Service of try this dot.tk website which serves the same purpose
Closing Words: Be very careful while choosing the hosting service. We often start with FREE Hosting service and then website grows into a big chunk of content and then when you try to migrate, it becomes a headache. Also stay away from a very cheap and untrusted hosting service providers. Last but not least, look for the details and service each hosting service is providing and then only decide which one is good for you.